Legendary Marketer Review
Jul 24, 2023
Legendary Marketer Review
Legendary Marketer is a great place to learn everything you need to know to start your own online business.
Having been through some high-ticket courses before, this one was a real eye-opener as to the possibilities there are for marketing online.
The amount of training packed into Legendary Marketer is almost overwhelming at first. But as you go through it, you will find yourself becoming very knowledgeable about the inner workings of what it takes to run an online business.


I finished in about 5 days. Not that there wasn't enough to keep you busy for 15 days, just that I was eager to learn and I had the week off from work.
This challenge is set up like a boot camp and helps teach you what is possible and how to do it. It motivates you to get off your butt and make this happen for yourself and is well worth the $7 charge to attend it.
PRO TIP - If you try to exit off the sales page... the price now drops to $1. Don't know how long this will last though.
The amount of value you get from this challenge is phenomenal. The below image should illustrate.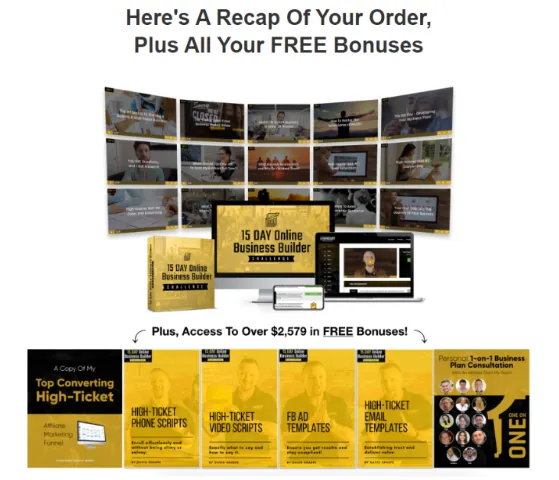 Legendary Marketer
Yes, you get all this for just $1... if you try to exit off the sales page.
Dave likes to add more value to everything he offers and doesn't stop there.
Throughout the course, which is so much information already, he likes to have a daily chat with successful people in Legendary Marketer. This is done Monday through Friday and usually last about an hour.
During the chat, he likes to ask the guest what they are doing to make them successful and you get a front row seat to hear all the great information that pours out.
The fact that this happens Monday through Friday, definitely gives you a great way to get motivated for each.
You are on your own for the weekend. LOL
Not really, the Facebook group is there with others who are going through the same challenges as you, and you can easily pop on and pose questions to the group
After you have started the "15 Day Online Business Builder Challenge," if you decide to purchase the complete course (which is well worth the price for the amount of knowledge you will gain), then you will be able to do so on about the third day of the challenge.


If you decide not to purchase, then you still get to keep the bonuses and finish the 15 Day Challenge.
Which equals out to be a couple thousand dollars worth of value for one dollar.
There is no place online or in the real world, where you can get this much value for about the cost of a pack of gum.
After the challenge...
They offer many different courses and occasionally add more to them to keep them updated with the latest techniques.
These courses are taught by people who have made their fortunes doing exactly what they teach and are very knowledgeable on the topics.
With your purchase, you have access to all the future updates that are added on at later dates. So, it becomes a resource that keeps giving value to you long after you purchase it.
They not only teach you what to do but also exactly how to do it.
From Affiliate Marketing to Coaching and Consulting, and to round it off with how to create and sell your own courses.
There are also masterminds you can attend as well as a Facebook group full of like minded entrepreneurs to help you along the way.
They teach you everything you will ever need and make it as fail proof as possible.
I will never say that something is fail proof, but this is quite possibly the closest you can get with any course.
If you stay consistent, I firmly believe it is hard to fail.
So if you want a program where the only thing stopping you from being successful is you.
Then this is definitely where the rubber meets the road and I highly recommend Legendary Marketer as the best I have seen.
If you are interested in trying it out for yourself then just click the link below:
They offer a 30 Day Guarantee with the offer, so I definitely recommend taking it out for a test spin and don't forget to kick the tires.
Standing beside you,,
Gary Maynard